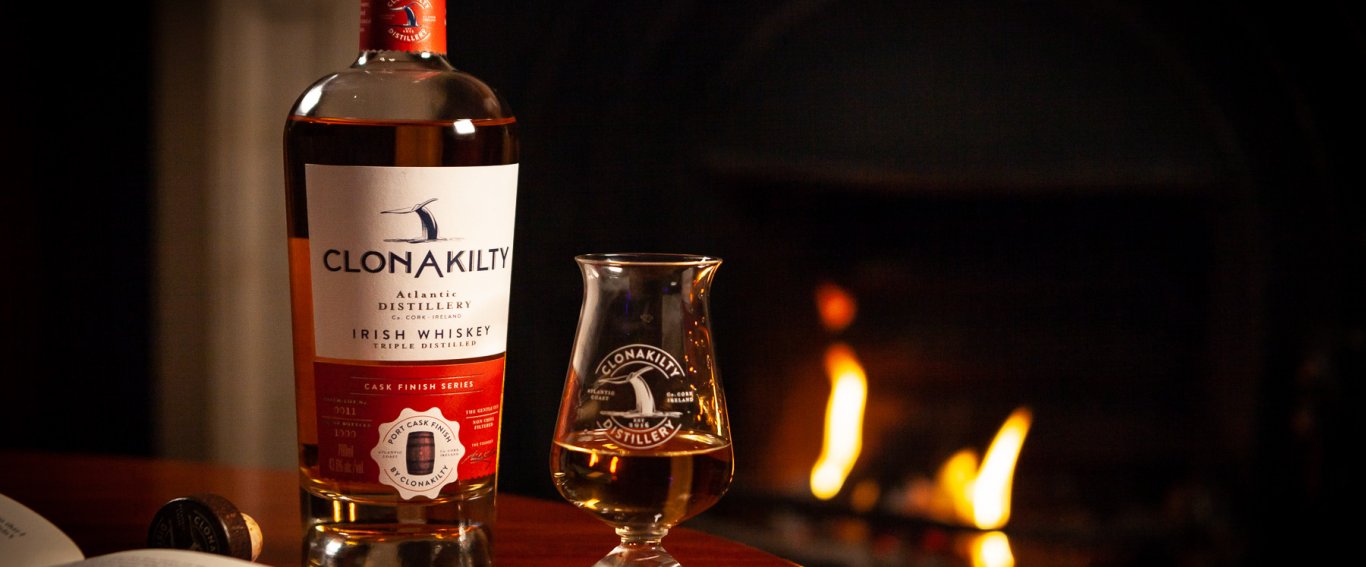 Clonakilty Whiskey Pairing Dinner
| Food
Celtic Ross Head Chef Shane Deane has created the perfect pairing menu to complement Clonakilty Distillery's exquisite range of whiskey expressions.
On 11th October, the Celtic Ross hotel will host a whiskey paring evening in collaboration with the indigenous Clonakilty Distillery. Home to the hugely popular Minke gin, named after the whale in a nod to the distillery's base on the Wild Atlantic Way, Clonakilty Distillery was the recent recipient of a Double Gold award at the prestigious San Francisco World Spirits Compe-tition.
What started as a small artisan distillery in a disused outhouse on their farm, has now become a multi-million euro business situated in the recently renovated Waterfront building in Clonakilty. This resplendent building with its glass walls is home to three bespoke copper pot stills. Handcrafted in Italy, they can be viewed up close as part of the distillery's immersive tour during which visitors are provided with a hands-on sensory experience of a real working whiskey and gin distillery.
Founded in 2016 by the Scully family, ninth generation dairy farmers from nearby Ardfield, Clonakilty Distillery has heritage, sustainability and traceability at its core. In keeping with its 'farm to consumer' values, most of the ingredients used in the production of Clonakilty Distillery 'expressions' are sourced locally, including organically grown botanicals such as samphire.
Other key ingredients like heritage barley, are grown on prime arable land beside the Galley Head. Naturally, being dairy farmers, the Scullys continue to produce the milk that forms the basis for their whey-based gin. In keeping with its 'grain to glass' philosophy, Clonakilty Distillery keeps everything in-house, the only exception being the malting process which is carried out by an Irish company in Togher, Cork City.
The partnership between Clonakilty Distillery and the Celtic Ross is one based on a mutual desire to support the combined local economy, environment, and tourism. Over the past couple of years, these close neigh-bours have worked on several workshop collaborations including mixology and tasting events.
Now this October, the West Cork collaborative are delighted to host a Whiskey Pairing evening. The event, which will take place in the stunning location of the Celtic Ross, situated at the edge of the Rosscarbery estuary on the Wild Atlantic Way, will feature a carefully conceived four course menu highlighting the finest of locally sourced ingredients.
Blue Bell Falls goat's cheese, Skeaghanore Duck, and Union Hall salmon are just some of the mouth-watering artisan produce diners can expect to enjoy on the night. A delicate balance of delicious flavours and autumnal colours has been carefully brought together to create a menu that perfectly offsets the personalities of each of Clonakilty Distillery's unique whiskey expressions of which there are three.
Firstly, there is their signature Single Batch Double Oak; aged in bourbon casks it is the first Irish Whiskey to be finished in NEOC - New Era of Cask - casks. This expression has a spicy bite and a caramel toffee hue making it the perfect accompaniment to whiskey cured salmon.
Second up is the Port Cask expression; finished in casks imported from the Portuguese Duoro Valley, this warming whiskey with its warm spicy undertones and fruity, zesty aromas has a beautifully rich jewel colour. This whiskey will star on not one but two courses; the starter course, where it will perfectly offset the warmth of cardamom, cinnamon and chilli, and the meat course, which will see it paired with pink peppercorns and ruby red duck breast - the perfect marriage, I'm sure you'll agree.
Finally, there is the Single Grain Bordeaux expression; a premium 9-year old grain finished in Bordeaux casks, making it the perfect accompaniment to the strawberry-themed dessert. Recalling succulent red berries with honey top notes and a cream finish this elegant whiskey, with its unique flavours, is like pudding in a glass.
The Celtic Ross Whiskey Pairing evening will showcase a blend of the fin-est Irish whiskeys matched perfectly with locally sourced artisan produce. The event, which will be curated by whiskey expert Ewan Patterson, will of-fer local and not-so-local whiskey aficionados and foodies the opportunity to come together for a unique and exclusive tasting.
Diners will be greeted with a Gin reception before being brought through Clonakilty Distillery's range of world-class whiskeys. They will then be treated to the four pairings, with Ewan giving expert instruction in the ways of whiskey tasting and the marrying together of carefully selected food and whiskey profiles.
With the winter beginning to draw its veil around us, this sounds like the perfect warmer for a cold, dark night!
****************************************************************************************
Tickets for the Celtic Ross Whiskey Pairing Event are €45, available from the hotel. Feeling self-indulgent, why not treat yourself to an overnight stay with full Irish buffet breakfast the next morning. Rate €120 (based on two people sharing). Call us on 023 884 8722 to book now.
****************************************************************************************