Celtic Ross Meal Kits
Celtic Ross Father's Day Barbeque Box
With Father's Day quickly approaching, we find ourselves looking forward to spending time with family. In celebration of Father's Day on Sunday June 20th, Chef Laurentiu and his team, have completed all the prep bringing you a delicious barbeque experience to enjoy with the family at home.
The Celtic Ross Father's Day Barbeque Box features a delicious menu, crafted with West Cork's finest local produce to be relished in the comfort of your own garden. We have teamed up with the guys at Rosscarbery Recipes to include their mouth-watering beef & Dubliner cheddar burgers, with brioche bun, pickles, bacon jam & aioli. Add to this Barbacoa glazed Timoleague pork ribs and Indonesia style Shannonvale chicken sate. With peanut sate sauce.
The kitchen team have created a selection of sides with a difference to compliment the barbeque meats; griddled wild garlic polenta cakes, broccoli salad with blue cheese ranch dressing, carrot & Miso slaw, Waterfall farm leaves and baby potato salad. We can't think of a better way to celebrate the long weekend and brighter days ahead.
The cost of the Barbeque Box is €60 which includes four generous adult servings of meats and sides. Keeping it local for the beverages, to enhance the treat for Dad, there is the optional addition of four bottles of Clonakilty Brewing Company craft beer for €15.
Our Barbeque Box is available on Saturday 19th & Sunday 20th of June 2021. Advance bookings are required through our online Click and Collect or by calling 023-8848722.
Boxes can be collected throughout the weekend.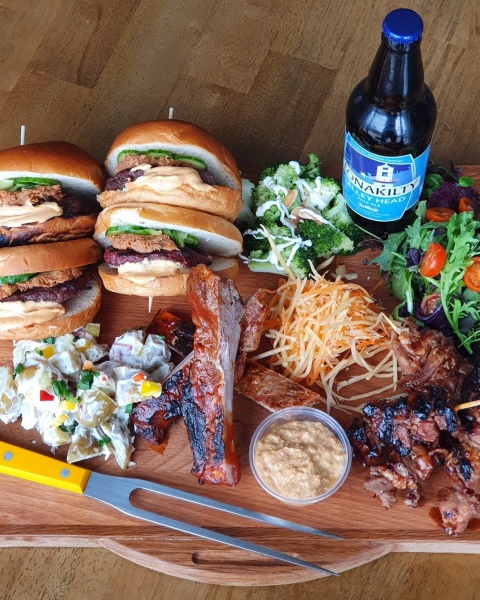 Celtic Ross Afternoon Tea To-Go
The team are delighted to see early signs of summer here at Celtic Ross, with the days getting longer and the sun getting that little bit warmer. We are also very pleased to welcome countywide visitors back to CRAFT to enjoy tasty street food with a West Cork twist.
To compliment the CRAFT vibrant street food, we have just launched Celtic Ross Afternoon Tea to go. Click and Collect Afternoon Tea can be enjoyed in the comfort of your own home or picnic style at one of the many scenic spots that Rosscarbery has to offer.
Afternoon Tea includes a delicious selection of savoury bites highlighting the produce of the wonderful West Cork food producers on our doorstep, mouth-watering home-baked treats for those with a sweet tooth. The price for two people is €35.
Afternoon Tea to go is available every Saturday and Sunday for the months of June, July & August.
Advance bookings are required through our online Click and Collect system or by calling 023-8848722