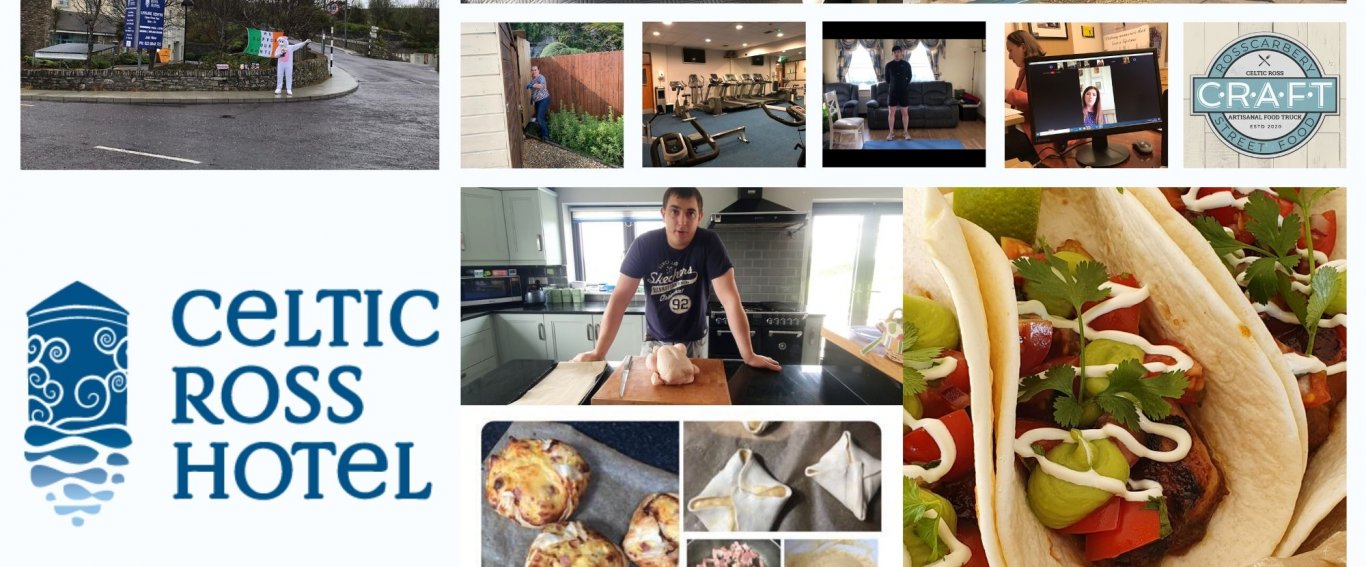 How we in the hotel adapted
01/08/2020 | Welcome
March 12th, 2020 – A day our hotel will never forget – as we were busy checking in guests for the West Cork Rally the news came through that Leo Varadkar had announced school closures for the next two weeks, the phones began to ring with cancellations and within a few hours the West Cork Rally was also cancelled. Back then we did not know it, but we were facing into four months of being closed.
In true team Celtic Ross fashion our staff did not let being closed stop them. Staff doing security in the hotel passed their time by turning to painting and decorating. Our chefs came up with recipes which could be posted online and even did a few live cook along. Leisure centre staff kept us active with online workouts and the wedding team continued to share 'Wedding tip Wednesday' and even did a virtual wedding fair. The Easter bunny even made a special appearance hopping around the town, delivering eggs to our local Guards and anyone who was lucky enough to be passing the hotel. On our social media, we continued to share pictures of beautiful Rosscarbery and did a 'People of Ross' feature, sharing local businesses and the people who hold our wonderful Community together.
Behind the scenes there was lots being done to prepare to reopen. A COVID Management Response team was put together to ensure we would all be prepared to safely re-open and staff and guests would feel safe. Staff throughout the hotel took part in various courses including:
· Sea Change – Covid-19 Lead Worker Training.
· E-Learning Lead Worker Training and Awareness.
· Ireland Active Wellness and Covid-19 Leisure Training.
· Failte Ireland Covid-19 Infection Control Training.
· IHF & Failte Ireland Covid-19 Webinars.
· Infection Prevention Control for Tourism Businesses & Chemical Training.
An induction to work was put together and all staff took part in a zoom call to ensure they had a full understanding of the new processes put in place on their return to work. Zoom calls were giving staff weekly updates on how things were going and reassuring staff that they were returning to a safe environment. (Would you believe we even had a horse join one zoom call!)
A small light then shone on the hotel as Craft West Cork opened for take-away, at last there was life around our hotel again. We were overwhelmed by the support we received form our local community. Our chefs are coming up with weekly specials from around the world and are serving amazing morning fuel, brunch and dinner options.
Then came the big re-opening. Another day we will never forget – we had come full circle and at last, our doors are open, we are welcoming guests again and boy does it feel good to give that warm West Cork Welcome. Although, a quite different experience we have adapted. Our team, as promised, are back together again. With residents and non-residents now being served separately, a one-way system in place, booking services in place for all our amenities, hand sanitizer throughout the hotel, and all staff wearing masks, everyone can relax. Even though the team are wearing masks you can still see how happy they are. You can see a team, delighted to be back welcoming old and new faces, a team who have adapted and been made feel safe by their heads of department and a team who most importantly, are happy in their work, take pride in being part of Rosscarbery and showing stunning West Cork to every person who chooses to 'Staycate' at the Celtic Ross Hotel.