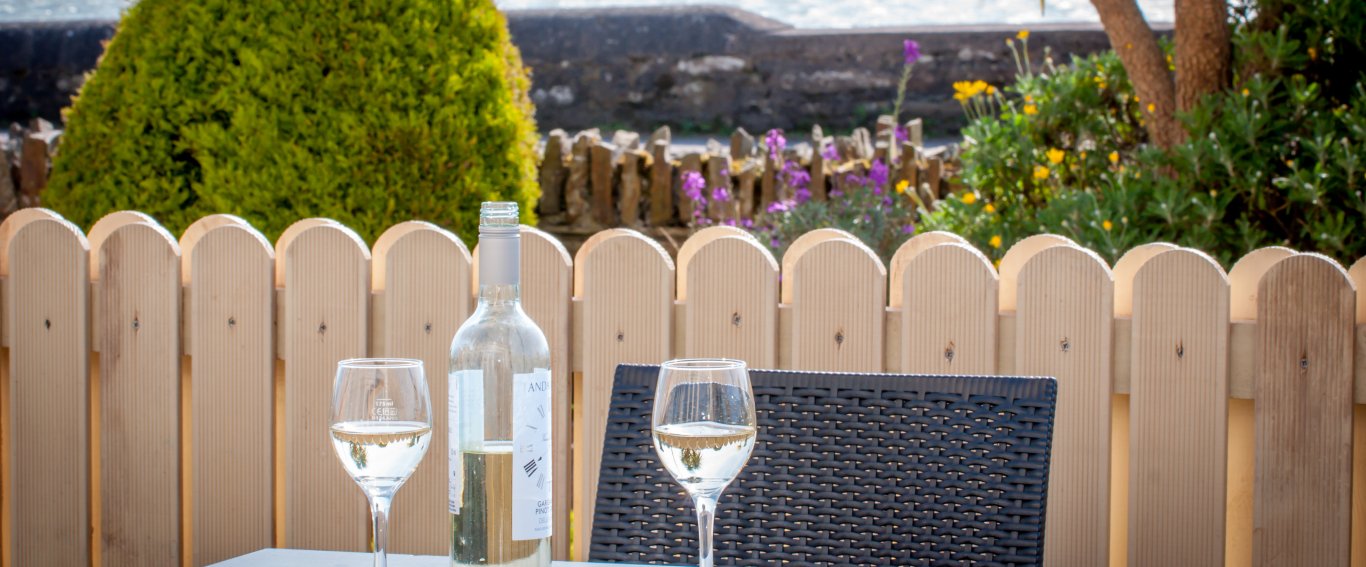 Summer on a Plate
25/07/2019 | Food
Overlooking the tranquil expanse of Rosscarbery Bay and Bird Sanctuary, the Kingfisher has long been one of West Cork's favourite eateries for those who appreciate good food and a well-made cocktail. Now they can enjoy both against the stunning backdrop of the Wild Atlantic Way.
NEW WEST-CORK THEMED SUMMER MENU
Headed up by Executive Chef Alex Petit, and Head Chef Shane Deane, our award-winning restaurant, which is known for its fabulous food offerings, has just got even better with its newly worked Summer menu. Renowned for their use of seasonal ingredients our Kingfisher team always go above and beyond to ensure each new menu is filled with sustainable produce.
Designed by chef Eoghan O'Flynn, the new seasonal menu is like summer on a plate, while our Summer Spritz sparkling drinks menu is bursting with colourful, refreshing infusions. Chef Eoghan, who joined team Kingfisher just eighteen months ago, says his ethos is to use 'seasonal, locally sourced, quality ingredients', an approach which he sees as the key to the restaurant's award-winning success.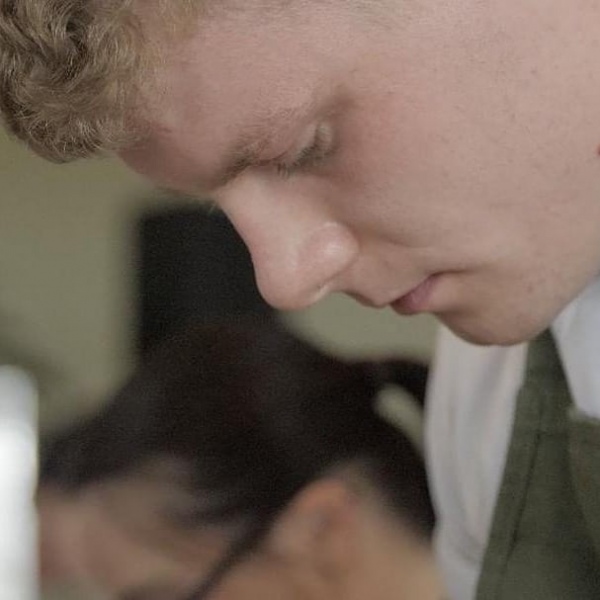 His new Summer 2019 menu, which he carefully and painstakingly put together under the supervision of the Alex and Shane, is an homage to locally and organically grown foods, with every dish on the menu abundant in ingredients from award-winning West Cork artisan food producers.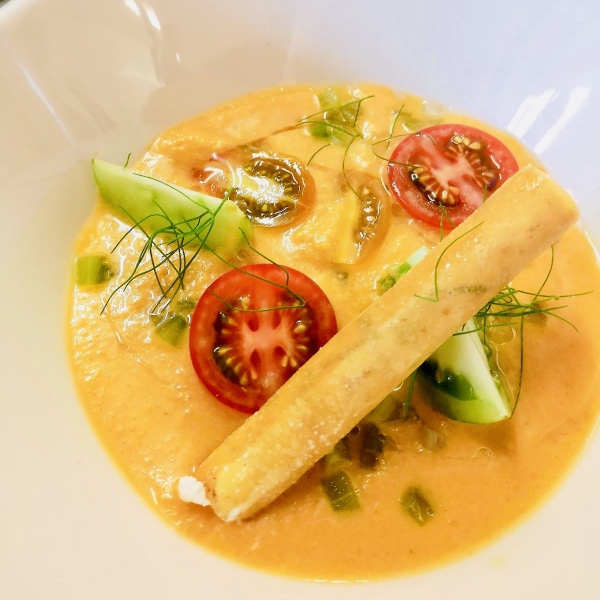 SKILLED SIMPLICITY
Eoghan has enhanced the menu at the Kingfisher to include seasonal dishes such as mouthwatering Grilled West Cork Langoustine with trimmings such as charred onion, bisque and pickled fennel, and a simple plate of Summer-ripe Cape Clear Tomatoes with Macroom Ricotta pastilla and hints of elderflower oil.
The new summer menu also includes an award-winning McCarthy's Featherblade of West Cork Beef with bone marrow dip, Baltimore shiitake gratin, roasted garlic, and braising reduction. Simplicity is key to this West Cork-themed menu which also features a plate of Fresh Tuna caught locally in the nearby fishing village of Union Hall. Sides have a herbal theme and include new potatoes with seaweed butter, and rosemary and garlic fries.
The elements are simple but far from easy to achieve - seriously good food created by a young chef with a passion for sourcing, for honesty, for subtle flavours and delicate garnishes, and an intuitive understanding of the tiny details that make dining magical.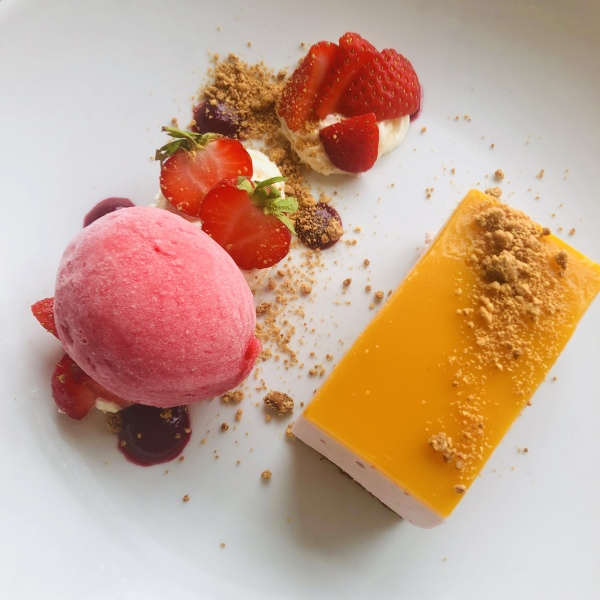 LOCAL IS ALWAYS IDEAL
Speaking about what inspired the new menu, Chef Eoghan O'Flynn says:
"At the Kingfisher provenance is priority, and local is always ideal. We prioritise the quality of the ingredients, what is in season, what can be sourced locally, and what is popular with our diners. We like to offer a good variety of choice on the menu, and I think we've achieved that with this new summer menu. The Kingfisher is known for serving great locally-sourced food in a fantastic setting. We're looking forward to welcoming in both new and regular customers this summer to experience our new menus."
According to chef Eoghan the star of the show is his dish of Skeaghanore Liver Parfait and Duck Confit Terrine. Perfectly crafted, it features a rich silky parfait and a luxe terrine served with locally grown Bushby's raspberries and hazelnut nougatine.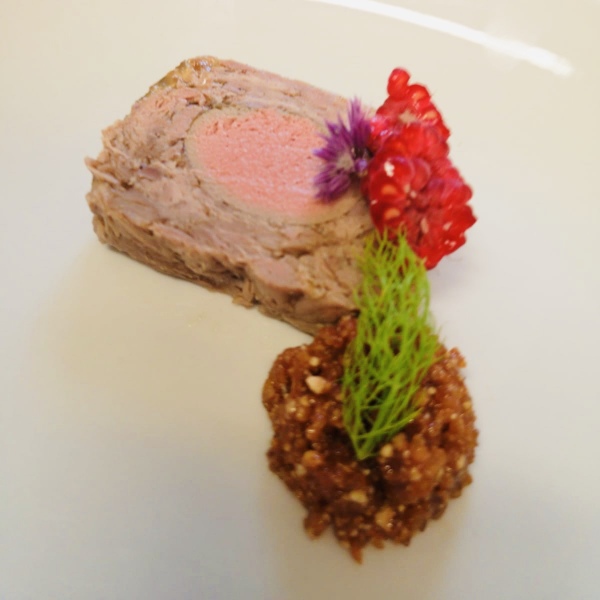 HEADY BUBBLES AND REFRESHING TASTES
As well as unveiling a summer restaurant menu, the Kingfisher has recently launched a new botanical themed sparkling drinks menu. The Sumer Spritz drinks list includes a refreshing citrus-based Smirnoff Spritz with an orange and grapefruit twist that will cut through any hot Summer's day, and a light, floral Raspberry Spritz with a hit of vanilla, perfect for those with a sweet tooth.
Reserve a table and come and enjoy Summer on a plate with a cocktail on the side. To make a booking call us now +353 (0)23 8848722