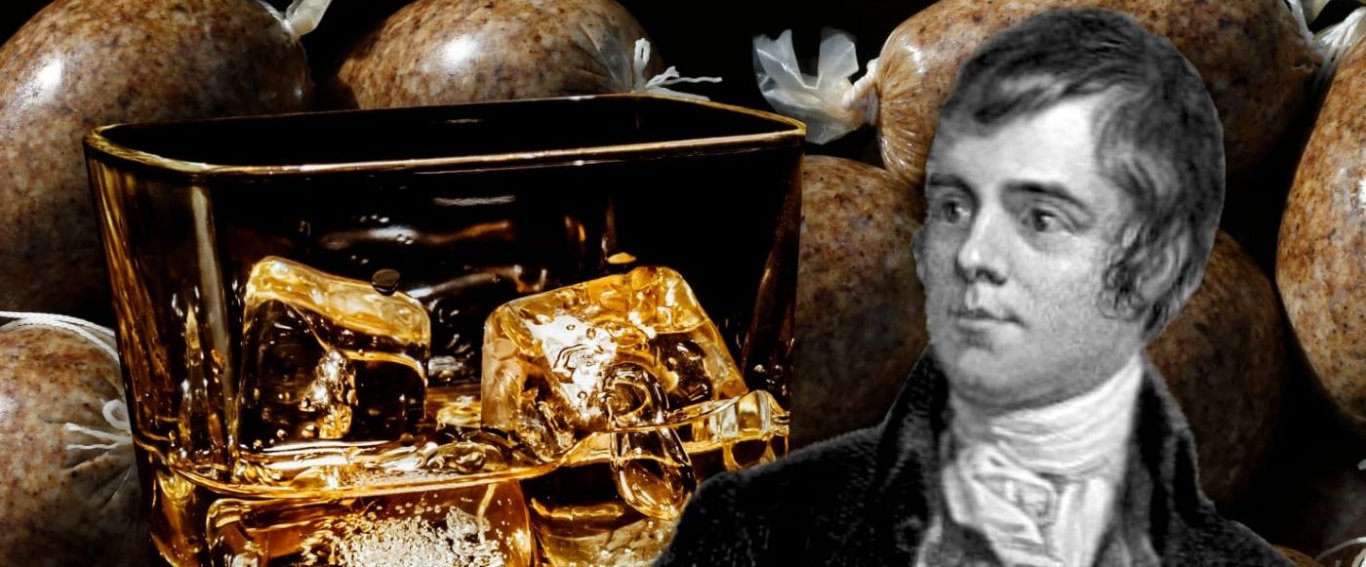 West Cork Burns Supper
25/01/2020 | Celebrations | Food
Burns Night 2020 - Serving Up a Slice of Scotland
Scunnert with January already? A pure barry skite of braw banter and tidy drams, our Burns Supper at the Celtic Ross Hotel will serve up the best of Scottish fare against a backdrop of words and music from one of world's most renowned poets.
Yes folks, that time of year is upon us once again.
Nollaig na mBan heralds the end of the Christmas festive period and the beginning of 'new year, new world'. Here at Celtic Ross HQ we think there's no better way to continue celebrating life, love and happiness than by doing what our Celtic cousins the Scots do and marking Burns Night on 25th January.
The now annual Hootenanny is also an end of Winter celebration
With Spring just around the corner, the timing of Burns Night gives it all the feels of an end of Winter term party! The now annual hootenanny doesn't just mark the birth date of Robert Burns, it is also an end of Winter celebration.
Celebrating Burns Night
Burns Night provides a welcome opportunity to combine some of life's simplest pleasures - good food and drink with a wealth of poetry, drama and music. All in the best possible traditional taste, with a sprinkling of fun and laughter. What more could a body ask for?
What is a Burns Supper?
Burns Night marks the anniversary of the birth on 25th January of Robert 'Rabbie' Burns, widely regarded as the national poet of Scotland and celebrated worldwide.
O my Luve is like a red, red rose
That's newly sprung in June;
O my Luve is like the melody
That's sweetly played in tune.
So fair art thou, my bonnie lass,
So deep in luve am I;
And I will luve thee still, my dear,
Till a' the seas gang dry.
Held on Burns Night, a traditional Burns supper is an evening event that celebrates this renowned poet's life and works. The Burns supper originated in 1801 when a group of Burns' closest friends gathered to celebrate his memory. Consisting of haggis and a plethora of speeches, recitations and songs, the first Burns Night marked the beginning of a tradition widely enjoyed to this day.
There's more to this hootenanny than haggis!
What can I expect from a Burns Supper?
Burns Supper diners can expect to enjoy a hearty and delicious 5 course feast including the obligatory haggis, neeps and tatties served with a few drams of some carefully chosen whiskeys personally brought over from Scotland by our General Manager Neil Grant.
Our tribute menu will be set off by a variety of poem recitals, dramatic and musical tributes and much more including a lively rendition of Tam O'Shanter by Norman Kean.
The running order for the evening is,
Arrival - Guests will be piped in by virtuoso bagpipe player Donal Kelleher from Macroom and welcomed by the host before being seated. Selkirk Grace is said.
The meal - After a delicious first course of potted Grouse, guests will be served two further 'scran' including Forfar Bridies, traditional meat pasties from Forfar in the east of Scotland. Star of the show, the Haggis, produced McSween of Edinburgh the highly respected family run business making meat products for over 60 years, is then piped in. The host performs Address to the Haggis, all guests then toast the Haggis, and the main meal is served.
A cannily crafted 'surprise' awaits diners for dessert! We cannae say more!
Drinks will be served throughout.
Post-meal tribute - After the meal, the first Burns recital is performed. The main tribute, the Immortal Memory, is then delivered before the second Burns recital is performed. All ladies present should gather themselves because that performance is quickly followed by the Toast to the Lassies. The Reply to the Toast to the Lassies will then be made before the final Burns recital is performed, rounding off a night filled with banter, a bit of blether and lot of Burns.
To get 'tearin the tartan' and for a 'pure barry' night out, book your tickets for our Burns Supper at Celtic Ross reception or via the website at https://www.celticrosshotel.com
A Celebration of the Life & Poetry of Rabbie Burns, Scotland's National Bard. The West Cork Burns Supper is a traditional Scottish themed meal crafted with beautiful West Cork produce, which will include a "wee dram"! The 5-course meal will be interspersed with Burns Poetry and all of the traditional elements of the Burns Supper including the "Address ti the Haggis" and "Tam O'Shanter". McSween's Haggis is brought in from Scotland especially for the evening and there will be traditional Scottish Songs performed.
€45 per person, Dinner and Overnight Stay €90pps. Book Now